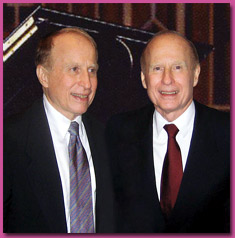 The American identical twins, Richard and John Contiguglia, are among the most acclaimed and versatile piano-duos in the world today. Since their London debut in 1962, following which the London Daily Telegraph described their playing as setting "a new standard for this intimate form of music-making," Richard and John are now the proprietors of their own recording company, Gemini CD Classics. Their releases on the Gemini label, Schubert Piano Duets — The Final Year, Live from the Holland Liszt Festival — Duos of Franz Liszt for One and Two Pianos, Music of Gershwin-Grainger and, most recently, Beethoven/Liszt 9th Symphony, reflect their lifelong commitment to popularizing the great body of music for two pianists. Their earlier recordings on the Connoisseur Society label and live performances of Bartók's Suite for Two Pianos, Op. 4b, of Liszt's transcription for two pianos of Beethoven's 9th Symphony and of Liszt's Operatic Paraphrases on 'Don Giovanni,' 'Norma' and 'La Sonnambula' were modern-day premieres. The Liszt Society of Budapest, Hungary, in the first record competition in the Society's history, awarded the Contiguglias' recording of the Beethoven/Liszt 9th Symphony its grand prix. With the Cleveland Orchestra they revived Victor Babin's Concerto for Two Pianos and Orchestra.

The most extraordinary musical event of the twins' youth was a performance in their hometown of Auburn, New York, when they were 12 years old, of a group of two-piano pieces in the middle of a solo-piano recital by the legendary pianist-composer, Percy Grainger. Following their concert together, Grainger presented the young pianists with many of his two-piano scores, some with touching dedications: "to Richard and John Contiguglia, from their admiring colleague," "in admiration of their splendid playing," "in tonal fellowship."

Richard and John have performed with major orchestras throughout the world, including the Cleveland Orchestra, the Pittsburgh Symphony, the Atlanta Symphony, the National Symphony, the Toronto Symphony, the Boston Pops, the Netherlands Chamber Orchestra, the Netherlands Philharmonic Orchestra and the Rotterdam Philharmonish Orkest. They have been heard, both with orchestra and in recital, in numerous prestigious venues, including Carnegie Hall and Lincoln Center in New York, the Kennedy Center in Washington, Orchestra Hall in Chicago, Queen Elizabeth Hall in London and the Concertgebouw in Amsterdam.

They graduated in the top 1% of their class at Yale, with identical averages of 91%, receiving their B.A. degrees summa cum laude, with Philosophical Orations. Two years later they received M.Mus. degrees from the Yale Graduate School of Music at the top of their class. Subsequently, they studied for four years in London with the great British pianist, Dame Myra Hess. In recognition of their associations with Dame Myra, Richard and John were invited to be the featured pianists for Dame Myra Hess Day, 2008, at the National Gallery in London on November 25, 2008. Their performance of a lunchtime concert at 1:00 pm, which the British critic, Jessica Duchen, described as "extraordinary", called to mind the 1:00 pm lunchtime concerts (1,698, over a period of 6˝ years) that Dame Myra organized during World War II at London's National Gallery, for which she was made Dame Commander of the British Empire by King George VI. The summer of 2011 brought them to Australia to participate in Townsville, Australia's 21st Festival of Chamber Music, with its special emphasis on the music of Franz Liszt and Percy Grainger.
Richard and John Contiguglia perform at the Liszt Grand Prix Award Concert
Richard and John Conitguglia were awarded the Grand Prix du Disque
by the Liszt Society of Budapest, Hungary on October 22, 2012.
Below are performances from the award concert.

These videos may also be viewed on Richard and John's YouTube channel at
www.youtube.com/ContigugliaDuo


Grand Gallop Chromatique by Franz Liszt

"Sonnambula" Fantasy by Franz Liszt

Andante Religioso - (Beethoven) Franz Liszt


Newest release on the Gemini CD Classics label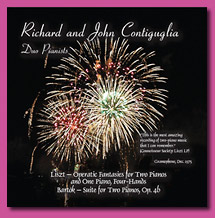 2012 Grand Prix du Disque
Liszt Society of Hungary
Liszt – Operatic Fantasies & Bartók – Suite for Two Pianos
Richard and John Contiguglia, Duo-Pianists
Early in our career as a professional duo-piano team we discovered duos of Liszt and of Bartók that had never been previously recorded and had seldom been heard in modern-day public concerts. The duos of Liszt were only available from collections in museum archives or in rare Russian editions. We were so impressed with the quality of the music that we performed much of it on our recitals in Europe and in the United States and finally made, in the early 1970s, what came to be several historic recordings for Connoisseur Society Records. The resulting LPs have long since been unavailable and were never reissued as CDs.
We are pleased to be able to offer once again the original Connoisseur Society recording of Liszt's Operatic Fantasies and a live radio broadcast recording for VARA Radio in Holland of Bartók's Suite for Two Pianos, Op. 4b.
"You owe it to yourself to seek out this recording – performances of this caliber are quite rare."
- American Record Guide, July/August 2012 Read full article
"This is the most amazing recording of two-piano music that I can remember" (Connoisseur Society Liszt LP)
- Gramophone, December 1975.
Contiguglia Duo's Liszt/Bartok CD reviewed in the American Record Guide
"...the works here still have few recordings for comparison, and the ones I know of are of no competition to these."
"The results here are spectacular."
"...the Contiguglia brothers give a knock-out performance."
"You owe it to yourself to seek out this recording – performances of this caliber are quite rare."
- American Record Guide Read full article
Contiguglia Duo reviewed in CVNC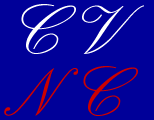 "From a front row balcony seat, the Sonata was a feast for the eyes and ears and a constantly evolving puzzle for the mind! Balance between the pianists and percussionists was excellent and the co-ordination was very precise. The execution of the complex contrapuntal layering of the first movement was breathtaking. The eerie night music of the second movement was perfectly spun out. The high jinks of the finale brought the unusually large audience to its feet in prolonged applause for a wonderful performance of a too seldom heard masterpiece. May the Contigulia Brothers return to Elon soon with, maybe, another memorable Schubertaid or an evening of Mozart."
- CVNC, North Carolina Read full article
Jessica Duchen's Classical Music Blog reviews Dame Myra Hess Day performance at the National Gallery

"Lunchtime saw an extraordinary performance by the Contiguglia Twins from New York, who played the socks off Howard Ferguson, Schubert and Beethoven. They came to Britain to study with Hess as young boys and played the Schubert Variations on an Original Theme for their Wigmore Hall debut. And... I've heard of identical, but this was quite something. I'm reliably informed that you can tell them apart when you know them well."
- Jessica Duchen's Classical Music Blog Read More About Dame Myra Hess Day
Contiguglia Duo's Beethoven/Liszt CD reviewed in the American Record Guide
"I enjoy transcriptions as much or more than most, and this is a great one, of the greatest piece, with a masterly performance, excellent recorded sound, and perceptive notes."
- American Record Guide Read full article
Contiguglia Duo reviewed in The News-Gazette, Champaign/Urbana, IL

"The piano duo of the identical Contiguglia twins is one of the most famous exemplars of this branch of the piano field. They have shown their superb discipline and fine musicianship here in years past as guest artists with Hobson's Sinfonia da Camera. On Monday night, they aroused to a high level of enthusiasm the members of a moderate-sized audience in Smith Music Hall."
- The News-Gazette, Champaign/Urbana Read full article
Contiguglia Duo reviewed in the News Times of Danbury, CT

"When it came to Mozart's concerto, the Contiguglias' four hands seemed to be playing with one mind and heart. The Allegro movement was rich in thematic development, flowing back and forth without repeating, but constantly moving along with a natural progression. Exchanging phrases smoothly in this brilliant dialogue, the twins' cooperative effort was a model of a well-functioning family. The final movement included cadenzas and ritards performed with amazing synchronicity. The twins knew each other's parts as their own. My apologies go to the RSO, as my attention was completely captured by the pianists."
- News Times, Danbury, CT Read full article
Contiguglia Duo reviewed in the Classical Voice of North Carolina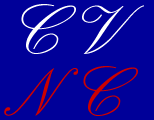 "The playing was as astonishing as the music itself"
"And the best artists — in which august group the Contiguglias belong — find new meaning in every repeat performance. So there was nothing routine about this concert"
"I heard things I'd never noticed before, due to the great precision and clarity of the performance. 'Twas Art with a capital "A," all 'round."
- Classical Voice of North Carolina Read full article
Performances 2012-2013
Budapest, Hungary
Grand Prix du Disque Award Presentation Ceremony
Monday, October 22, 2012 at 5:00 pm
Chamber Concert Hall of the Old Franz Liszt Music Academy
Vörösmarty u 35
Budapest, VI Hungary
Andante religioso from Beethoven Festival Cantata Franz Liszt (1811-1886)
Operatic Fantasy on Bellini's La Sonnambula Franz Liszt (1811-1886)
Hattiesburg, Mississippi
Sunday, February 3, 2013 at 2:00 pm
University of Southern Mississippi School of Music
118 College Drive
Hattiesburg, MS 39406
One Piano, four-hands
Andante religioso from Beethoven Festival Cantata Franz Liszt (1811-1886)
Operatic Fantasy on Bellini's La Sonnambula Franz Liszt (1811-1886)
Fantasy in F Minor Franz Schubert (1797-1828)
Two Pianos, four-hands
Sonata for Two Pianos and Percussion
Béla Bartόk (1881-1945)
Jason Mathena and Bud Bertholdt, percussionists
Davidson, North Carolina
Saturday, February 16, 2013 at 8:00 pm
Davidson College
Tyler-Tallman Hall
Sloan Music Center
Davidson, NC 28035
One Piano, four-hands
Andante religioso from Beethoven Festival Cantata Franz Liszt (1811-1886)
Operatic Fantasy on Bellini's La Sonnambula Franz Liszt (1811-1886)
Fantasy in F Minor Franz Schubert (1797-1828)
Two Pianos, four-hands
Sonata for Two Pianos and Percussion
Béla Bartόk (1881-1945)
Scott Christian and Leonardo Soto, percussionists